Expert Strategies for Winning the 4D Lottery in Singapore
Disclosure
By using this website, you agree to our terms and conditions and privacy policy. Occasionally, we may include affiliate links in our content. If you click on these links, it may result in a commission for us, at no extra charge to you. Thank you for your support.
---
If you are currently researching how to win the 4D lotto, this guide explores the basics and shares tips on how you can make some money on the side from this popular lottery in Singapore offered by Singapore Pools. Since buying 4D is gambling, there is no sure-fire way to win, but there is no harm in increasing your odds of winning and ensuring that you are making the most out of your investment.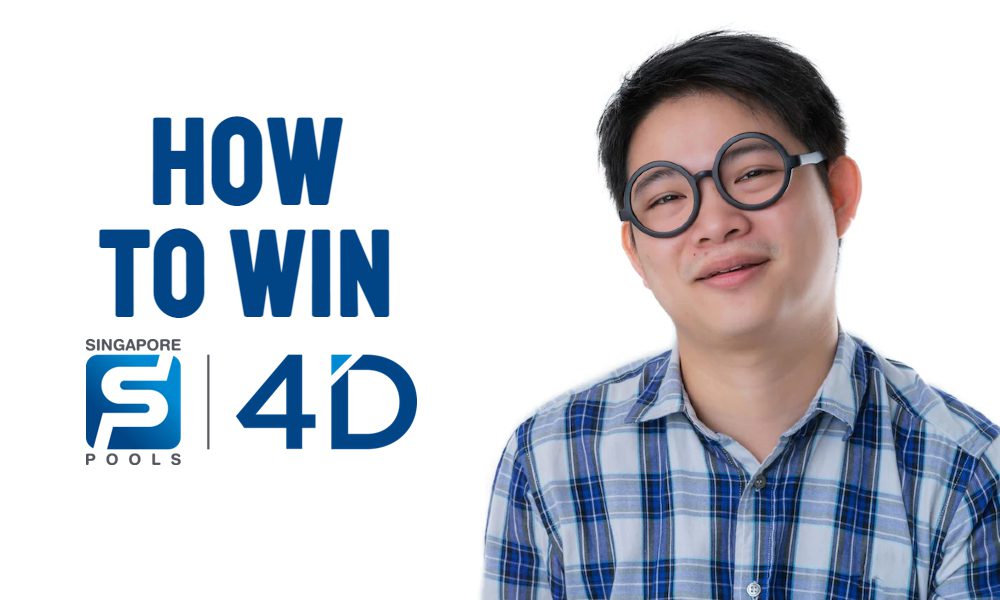 4D Basics
Before delving into the tips of how to win Singapore 4D, it pays to understand the concept behind the game as this can dramatically improve your odds of winning. Basically, 4D is a game of numbers where you bet on all the possible permutations of a 4-digit number ranging from 0000 to 9999. This means that there are 10,000 potential winning combinations.
If you have placed a small bet, your chance of winning is only 3 out of 10,000 or 0.03% but with a bigger payout if your win. Meanwhile, a big bet means your chances of winning increases to 23 out of 10,000 or 0.23% but with a smaller prize amount. A good comparison would be 1st prize where you will win a prize money of SG$ 3,000 with a small bet and SG$ 2,000 with a big bet.
Although the chance of winning is low, many still flock to playing 4D as tickets cost as low as SG$ 1, an amount inclusive of GST. In return, players stand a chance to win thousands. To win, all you need to do is place a bet on a 4-digit number and hope that your selected numbers match any of the 23 winning numbers that are drawn every Wednesday, Saturday, and Sunday at 6.30pm. If your number matches, you have in your hands a winning ticket!
These winning numbers are chosen at a Singapore Pools outlet where a computer software randomly selects a draw machine and ball set to be used. A personnel then breaks the seal and proceeds to start the draw process. The balls will spin in the machine which will then eject balls that make up the winning number. If these short summary is not enough for you check our guide on how to play 4D lottery.
Strategies and Tips To Win 4D
Although 4D is random, 4D veterans and self-acclaimed experts say that there is always a pattern and trend behind it, following some loose mathematical law. Since it is not exactly math, winning is never 100% and players are encouraged to be patient and persist. Here are some strategies or tips that may increase your odds of winning:
Use The Latest 4D Results
If you talk to some Singaporean 4D veterans, there are some that will swear that analyzing the past 4D results can help you increase your odds of winning. This is based on a concept known as "numeric trend" where numbers to be drawn next have appeared in the last 7 draws while numbers that have not been drawn in the last 7 draws should be avoided.
Some numbers appear at every draw and are known as hot numbers. These are often used by experienced players as they realize that there is a higher potential for these numbers to come up at the next drawing. Past 4D results can be obtained from the Singapore Pools website. You can even check to see if a number you want to bet on has ever won a prize before.
Build A Bot
If you are tech-savvy, why not consider building your own algorithm to help you determine the potential winning numbers based on past 4D results? Taking it too far? Perhaps, but it will save you the trouble of analyzing future numbers and makes your work much easier even if building the system will take a while.
Random Numbers
Instead of always going for your lucky numbers, why not try random numbers via the Quick Pick option? In fact, there have been many instances where people have hit the jackpot with a random $1 Quick Pick ticket.
Mixing Numbers
When it comes to Singapore lotteries like TOTO, you should try a mix of even and odd numbers as having all six numbers being odd or even is rare. It is also advisable to avoid having a combination of numbers that form an obvious pattern.
Numerology
Numerology is the study of the divine or mystical relationship between a number and coinciding events. There are some avid punters who swear by numerology where they claim that they can calculate the number they bet on. Although some deem it superstitious, there are some cases where individuals have had small windfalls from this tactic.
Top 4D Numbers
If you are interested in the top 4D numbers, a software engineer by the name of Terence Lucas Yap attempted to predict 4D results using the TensorFlow library. Although he eventually concluded that 4D predictions using Artificial Intelligence (AI) are unreliable, here are the top numbers based on his work. Keep in mind that this data is accurate as of 27th June 2020, so if you are interested in the latest data for the 4D game, perhaps you could consider reaching out to him or replicating his model for analysis.
Top 10 Most Frequent Numbers
Top 10 First Prize Numbers
Top 10 Second Prize Numbers
Top 10 Third Prize
Top 10 Starter Prize
Top 10 Consolation Prize
Conclusion
After learning the strategies and tips on how to win 4D, you can now place your bets and hope that your numbers match the winning numbers for the next draw. Since 4D is a game of chance, remember that these predictions and analysis are not 100%, so be sure to play responsibly and only within your means.