Junket Casino Guide in Singapore: An Exclusive High-Stakes Experience
Disclosure
By using this website, you agree to our terms and conditions and privacy policy. Occasionally, we may include affiliate links in our content. If you click on these links, it may result in a commission for us, at no extra charge to you. Thank you for your support.
---
There are several Singapore junket casino services. They play an important role in bringing in more revenue for the casinos. In Singapore, the first junket licenses were issued in 2012.
What are Junkets and What Do They Do?
Casino junkets or junkets is a term invented in Las Vegas in the 1950s. The term is used to describe an organized trip of high rollers. These wealthy players commit to gamble a specific amount of money during their trip. In return, these players may receive an all expenses paid international trip, top tier gambling experiences, and / or free stays at 5-star hotels. This all-inclusive service is known as junket travel.
What Do Junket Operators Do?
Junket operators work with casinos to lure VIP players. They offer luxury travel and accommodation for these players. They can also provide special promotions and other personalized services. Junket operations receive commissions from the casinos.
The role of junket operators may include handling solo or group reservations, providing bankroll to players serving as bank-like entities, and collection of debts. Over the years, junkets have gotten a bad reputation. This is due to their questionable methods of obtaining clients and collecting debt.
How Does the System Work?
The junket system involves 3 parties: casino junkets, the casino itself, and VIP gamblers. The casino junkets are responsible for recruiting players who are willing to spend a significant amount of money on gambling while the casino junket entices the players by offering luxury trips and accommodations. In return, the casino makes VIP revenue from the players and the casino junket receives a commission from the casino.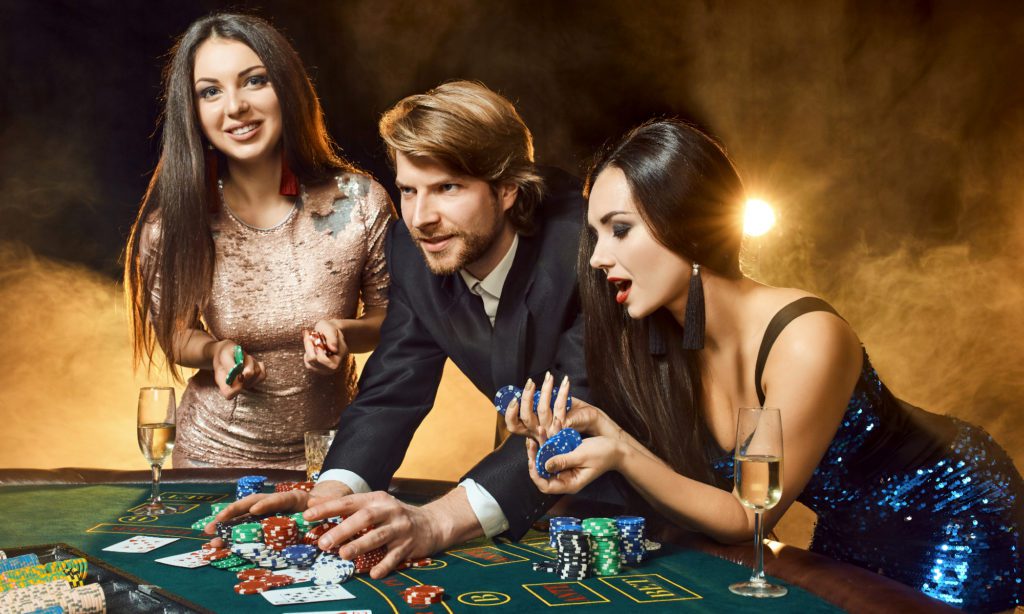 Junkets in Singapore
In Singapore, the Casino Regulatory Authority (CRA) calls junket operators "international market agents" (IMAs). This term is more accurate at describing what junkets do. IMAs in Singapore focus on bringing in foreign wealthy gamblers to increase casino revenue and are not allowed to target locals. The CRA granted the first gambling marketer license to Resorts World Sentosa. The CRA is adamant that the junkets will have to follow these strict rules:
Junket licenses are only valid for one year.
The casino operators have a responsibility to ensure only suitable persons conduct the IMA business.
Casino operations must discourage the IMAs from targeting locals.
Casino operators are responsible for the IMAs they use. They have to submit reports on the IMAs they endorse.
IMAs can extend credit.
IMAs cannot share their commission with unlicensed IMAs.
Why are Junkets Important?
Junkets can greatly increase VIP gaming revenues for a casino. Junkets have an important role in attracting VIPs throughout Asia. This benefits the casino immensely as casinos cannot reach as many high rollers the way junkets can. Junket operators can also reduce credit risk and bad debt. This is because junket operators have a better understanding of the player's financial background.
Junket Casino Services
There are very few junket casino services in Singapore. Therefore, we will be looking at VIP junket operators in neighboring countries instead. They offer trips to the best gambling destinations. Here are some examples:
GH Junket. This company organizes trips to:

Malaysia: Maxims Genting, Genting Highland Resort
Cambodia: Queenco Casino, World Naga Casino
Philippines: Manila Resort World
Vietnam: Da Nang Crowne International Resort Casino, Hanoi Halong Royal Casino
Cruises: Taipan cruise
Genting Junket. Genting Junket claims to be among the world's top junket service providers. They organize trips to:

Malaysia: Resort World Genting
Singapore: Resort World Sentosa, Marina Bay Sands
Philippines: Resort World Manila
Macau: Sands Macau Casino, MGM Grand Macau (MGM resorts), Lisboa
Vietnam: Da Nang Crowne International Casino, Halong Royal Casino
Cambodia: Naga world Casino, Queenco Casino
Australia: Pullman Reef, The Star Casino
USA: Caesars Palace, Mirage Las Vegas
Cruise: Star Cruise
We are not affiliated with the above junket operators in any way. It is up to you to determine the credibility of the operators mentioned above.
Casinos in Singapore
In Singapore, there are only 3 places to physically gamble. These include: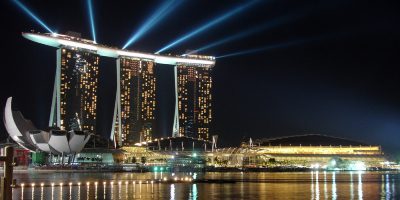 Marina Bay Sands Casino
Open 24 hours
The Marina Bay Sands (MBS) casino is lavish and luxurious. MBS is owned by the Las Vegas Sands Corporation from the United States. It is massive with 15,000 square meters of gaming space. The gaming arena features 700 table games, more than 2,500 gaming and jackpot machines, 30 private VIP rooms, and vast dining options. MBS boasts having the newest gaming machines in the world. They require smart casual attire.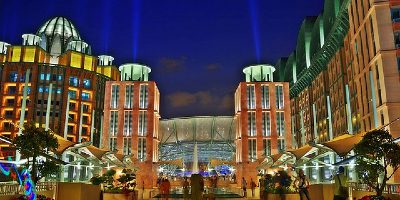 Resorts World Sentosa Casino
Open 24 hours
Genting Group owns Resorts World Sentosa (RWS) casino. They are Asia's largest and oldest operator in the gaming industry. This particular casino is lush and extravagant. It encompasses 15,000 square meters and features more than 550 table games and 2,400 casino game machines. RWS casino is also known as Genting Singapore. It has attracted more than 45 million visitors within the first three years of operation.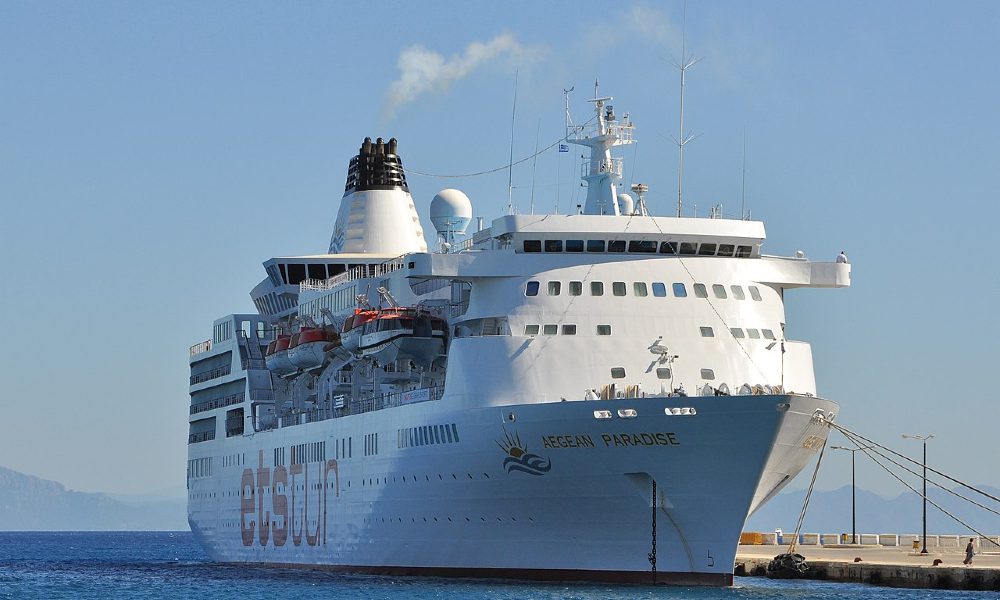 Aegean Paradise Cruise Casino
Open 24 hours
Aegean Paradise Cruise casino allows you to sail the seas while gambling. This lavish cruise is a luxurious escape from the hustle and bustle of city life. They provide delicious meals at the Chinese buffet restaurant. It features 40 table games and hundreds of slot machines. Suitable for all types of players, the minimum bets are lower compared to the other high-profile casinos in Singapore.
Resort Casinos in Singapore
Marina Bay Sands Singapore
MBS is an integrated resort in downtown Singapore. You can stay, dine, and shop at MBS. The resort offers special promotions such as free resort credits and room upgrades. Perfect for a family vacation, enjoy art, science, and entertainment during your stay at MBS.
The resort encompasses the MBS casino, 2,561 rooms, 120,000 square meters convention exhibition center, the shopping mall, museum, a large theater, celebrity chef restaurants, two floating crystal pavilions, an observation deck (Sky Park), and a 150m infinity swimming pool.
Resort World Sentosa Singapore
RWS is an integrated resort. It is on Sentosa island, off the Southern coast of Singapore. The resort is split into 3 zones. It has several hotels offering a total of 1,840 rooms split between several buildings. The resorts include fine and casual dining options, salons and Spas, the Maritime Experiential Museum, and several Convention Centers.
Suitable for a family vacation, the key attractions at RWS include the RWS casino, Universal Studios theme park, Adventure Cove Water park, SEA Aquarium, Dolphin Island, Head Rock VR, and more.RWS is a great place for any visit as the resort is designed to be perfect for families, couples, and business conventions.
Hotels and Resorts Near Singapore Casinos
Since the rooms at MBS and RWS can be pricey, here are some other hotels and resorts that are near both casinos.
Places Near Resort World Sentosa Casino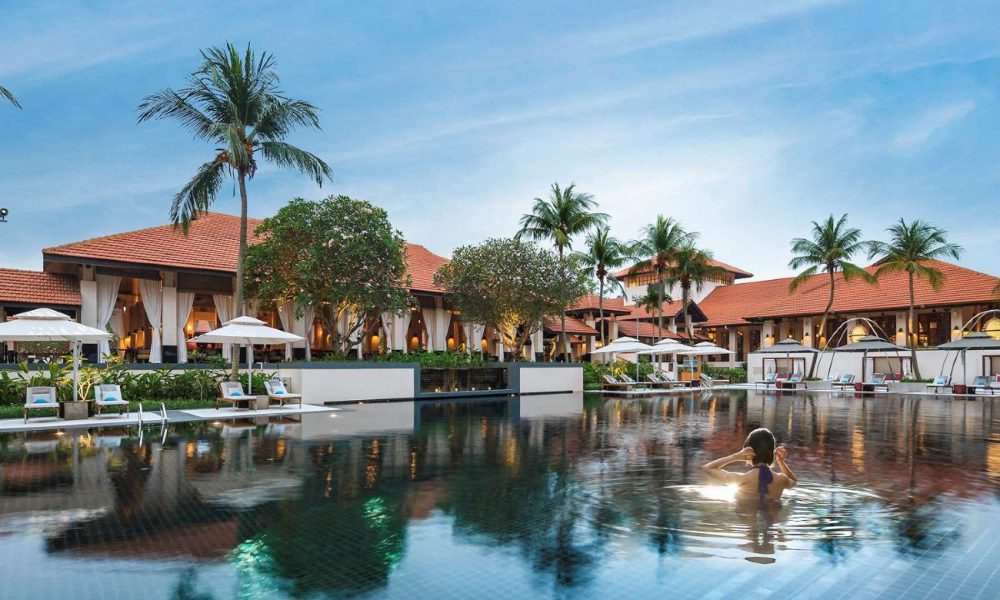 Sofitel Singapore Sentosa Resort & Spa
Sofitel Singapore is a French luxury resort on Sentosa island. It is located about 1 mile (1.61 km) from RWS casino. It sits on top of a cliff overlooking the South China Sea.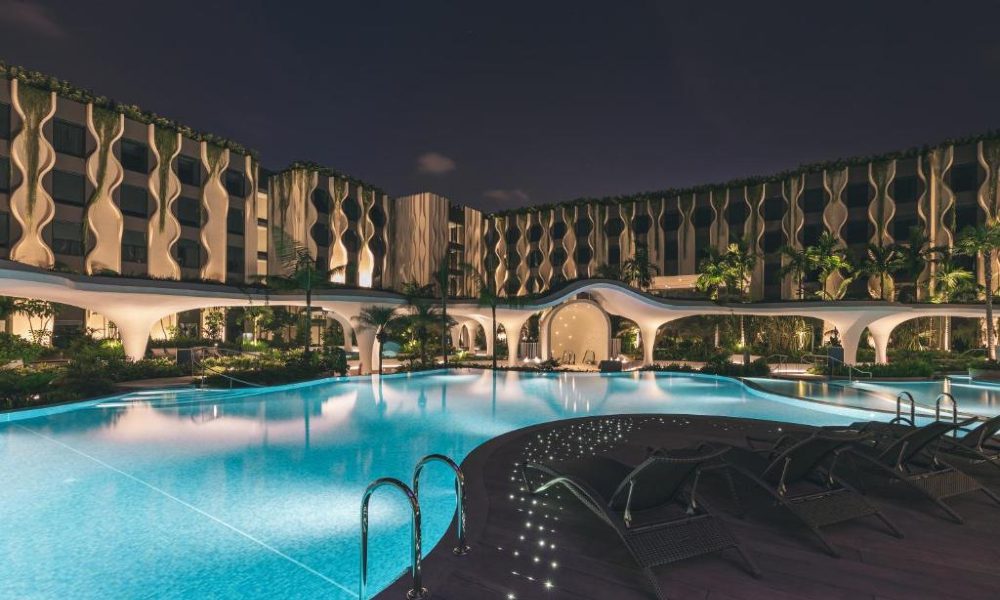 The Outpost Hotel Sentosa
This is an exclusive hotel about half a mile from RWS casino. It promises stunning views, an infinity pool, and a progressive Asian Restaurant.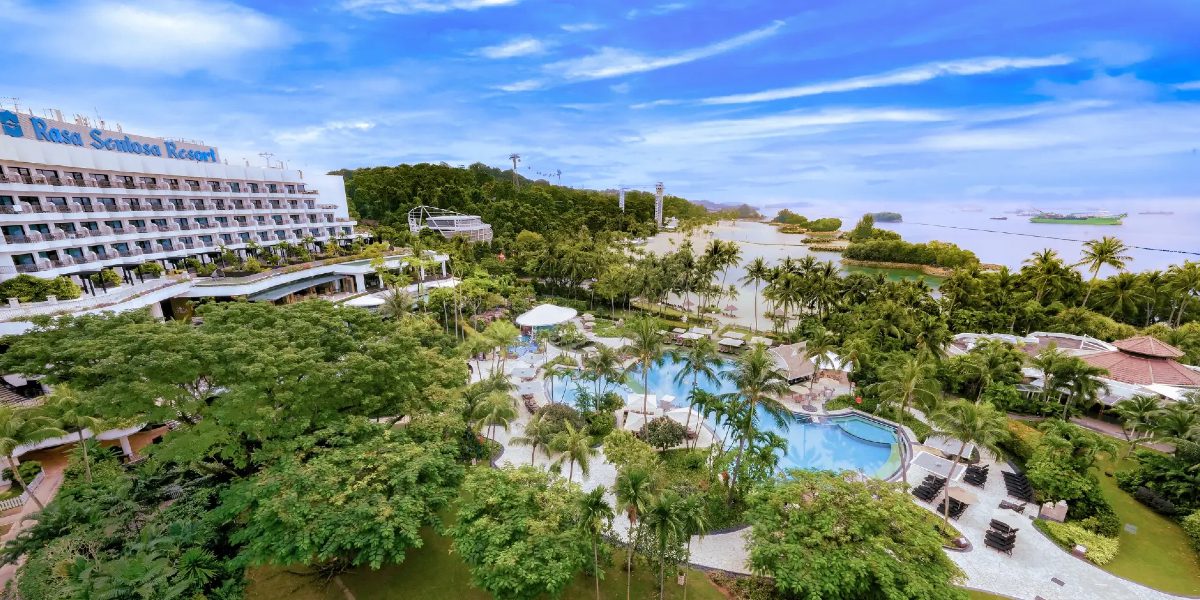 Shangri-La's Rasa Sentosa Resort & Spa
This property is the only beachfront resort in Singapore. This family friendly resort is about 1 mile away from RWS casino.
Places Near Marina Bay Sands Casino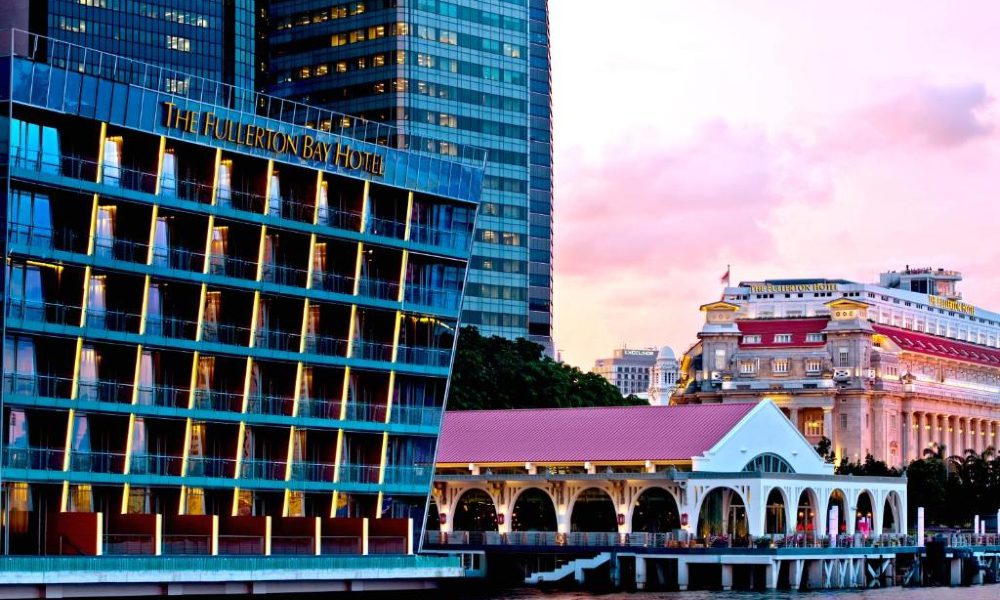 The Fullerton Bay Hotel Singapore
This sleek modern hotel is half a mile from the MBS casino. It was recognized as one of the Top 1% Hotels in Singapore in 2017.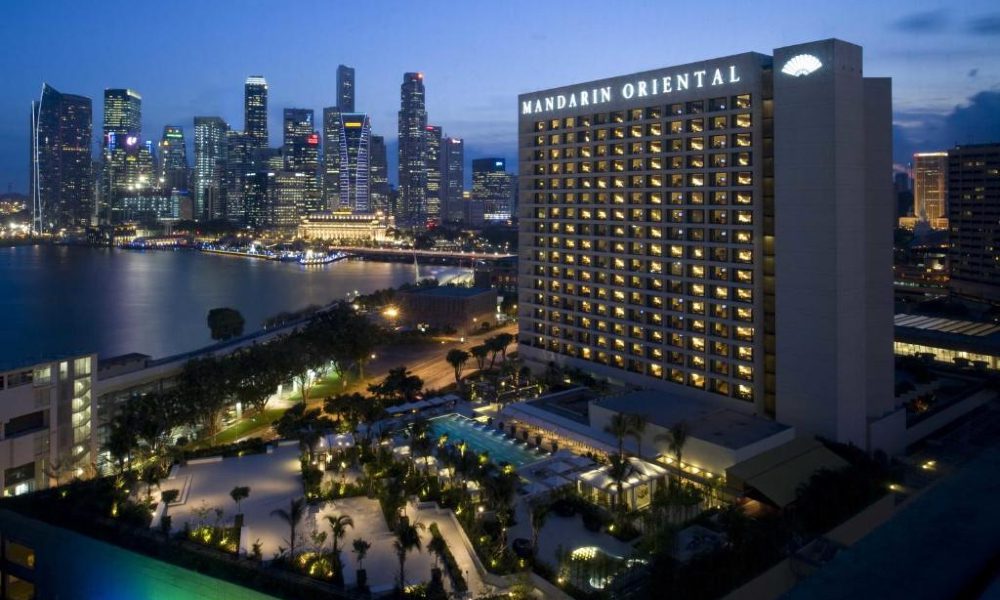 Mandarin Oriental Singapore
This luxury hotel is the ultimate urban retreat. It is half a mile away from MBS casino.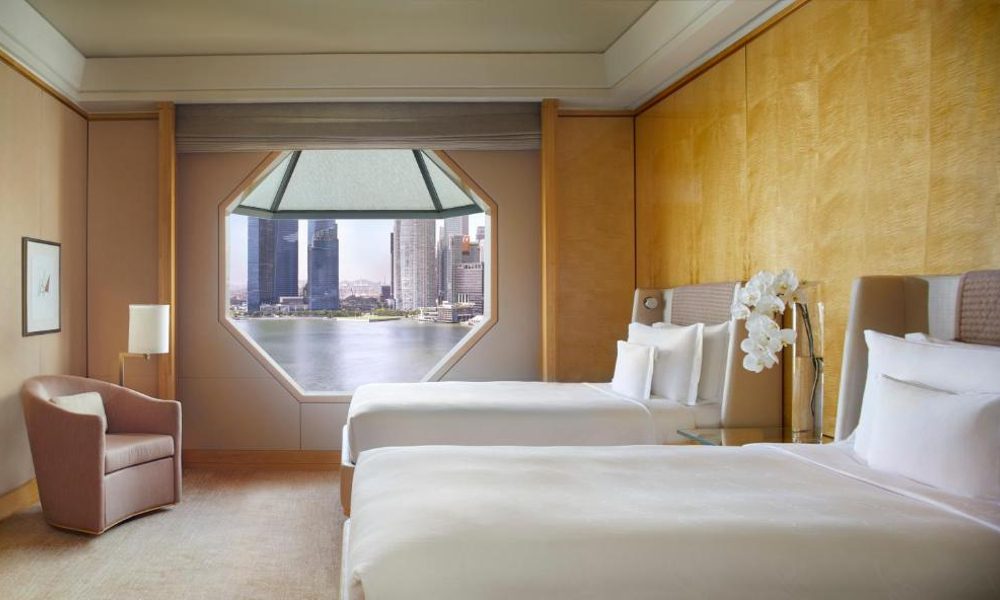 The Ritz-Carlton, Millenia Singapore
This luxury hotel surrounds guests with their 4,200 piece art collection. It is half a mile away from the MBS casino.
Conclusion
The Junket experience offered by select casinos in Singapore provides an exclusive and extravagant high-stakes gaming offering that caters to the most affluent and discerning clientele. Despite its controversies and criticisms, it continues to draw a loyal following of high rollers willing to pay a premium for the ultimate gaming experience. Whether you're a seasoned gambler or simply curious about luxurious high-stakes gambling, a visit to a Junket casino in Singapore is sure to leave you spellbound.