Updated Analysis on Social Gambling in Singapore
Disclosure
By using this website, you agree to our terms and conditions and privacy policy. Occasionally, we may include affiliate links in our content. If you click on these links, it may result in a commission for us, at no extra charge to you. Thank you for your support.
---
Social gambling in Singapore will be legalized from 1st August 2022. This means any form of playing games such as poker and mahjong with friends and family is permitted from the date onwards. While not entirely illegal, social gambling was never clearly defined in current laws until recently as the Singaporean Government is updating their gambling regulations as an effort to address the advances of the new gambling landscape.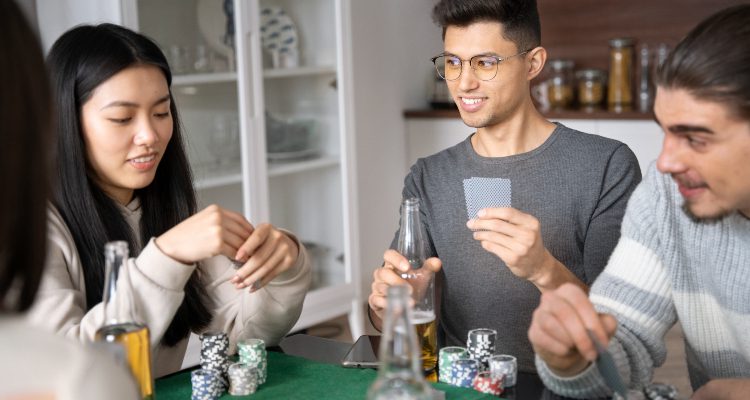 The Definition of Social Gambling
Besides the generally innocent game with friends and family, social gambling is a much broader term. Based on a technical report authorized by the UK Gambling Commission, it can be divided into the following:
Online Gambling
This is games on online gambling websites such as betting on sporting events, bingo, and poker that accept real money wagers and pay out real money prizes. Although there is limited social interaction such as chat functions, there is increasing use of social media to market users. 
SNS Real Money Gambling
This form of social gambling involves non gambling social networks where players pay to participate at a chance of winning real money prizes. This is often on mainstream social networks where players can invite their friends on platforms such as Facebook.
App Real Money Gambling
With a feature to link to social networks, inviting friends, chat, and share virtual goods, real money gambling via apps lure players to pay to participate for the chance of real money prizes. These apps are available on tablets and smartphones.
Online Social Gambling
These are gambling specific social networks developed to offer particular forms of commercial gambling where players can make connections within the game, share achievements, exchange betting tips, challenge others, and invite friends to join.
Console Based Gambling
This option allows players to bet on the outcome of video games by wagering money on their own performance. This option allows peer to peer connections within a game or a third party host with links to social media platforms such as Instagram, Twitter, and more.
Virtual World Gambling
Hosted on an online virtual world, players wager virtual goods that may be converted into real money on the outcome of real world or in game events. It allows social interaction between peers within the game and in community discussion forums.
SNS Freemium Gambling
These are free to play games on social networks but with elements that resemble true gambling such as encouraging microtransactions to extend or enhance gameplay. Social aspects include invites, "like" function, sharing of virtual goods, chat, challenges, mini-games, and more.
App Freemium Gambling
These are free to play gambling style games available on apps on tablets and smartphones. These apps resemble real money gambling where players are encouraged to pay to enhance or extend gameplay. It allows linking to social platforms, chatting, and sharing of virtual goods.
SNS Gaming
Hosted on mainstream social platforms like Facebook, this includes social network gaming which has optional gambling elements as part of gameplay. Players are encouraged to invite friends, share virtual goods, discuss on pages or forums, and to post or "like" on social networks.
The Singaporean Government's Holistic Approach
As an effort to tackle new technology and emerging trends, the Gambling Regulatory Authority (GRA) of Singapore will take a holistic approach to gambling laws. This allows them to respond adequately to emerging gambling products. 
With the announcement of the GRA Act, this regulation will start to take effect as of 1st August 2022. Working together with the Ministry of Social and Family Development (MSF) and the National Council on Problem Gambling (NCPG), the Government of Singapore hopes to protect Singaporeans from the harms of gambling with the help of the Singapore Police Force (SPF) who will continue to enforce the law. 
Updated and harmonized under the Gambling Control (GC) Act, it concerns all unlawful gambling offenses and activities outside of casinos with the Common Gaming Houses Act, Betting Act, Remote Gambling Act, and Private Lotteries Act being repealed. The GRA will issue gambling operator licenses to fit and proper licensees for gambling services such as gaming machine rooms, betting, lottery, and gambling in private establishments, holding the operators accountable for the conduct of gambling. This means operators are held accountable for entry checks and entry bans for underaged individuals. 
By introducing class licensing regimes for lower risk gambling services such as lucky draws or mystery boxes, operators who offer such services do not need individual licenses as long as they meet the requirements of the class license before offering the relevant activity. Details on the conditions for each class license will be released once the subsidiary legislation is ready.
What Does The Gambling Control (GC) Act Mean For Social Gambling?
Social gambling is a common activity among many Singaporeans where these activities were not disallowed by the older legislation. Under the GC Act, physical social gambling among friends and family members including minors at home will still be allowed but this allowance will not be extended to online platforms due to the practical difficulties in establishing individual relationships online, whether it be truly an online activity among friends or family. Based on this regulation, the SPF will take action against criminal syndicates that exploit this exemption to conduct illegal gambling activities.
Based on the GC Act, there will be a three-tier penalty structure for unlawful gambling offenses be it for physical or online activities based on the status of the individual: punters, agents, or operators. The highest penalties will be imposed on operators and repeat offenders as they have the highest culpability, followed by agents, and then punters. These penalties will be enhanced as a deterrent to criminal syndicates. It will also criminalise proxy gambling in casinos, gaming machine rooms, and fruit machine rooms.
The Reasoning Behind The GC Act
The changes of regulations come after the laws were passed in Parliament in March 2022 after a debate where Members of Parliament (MPs) raised concerns regarding newer forms of gambling from advances in digital technology. Since the Singaporean Government has always had social safeguards towards gambling, the amendments in the updated regulation will continue to aim to minimize the social harms of gambling.
This shows the successful efforts of the government as the NCPG's Gambling Participation Surveys show that pathological and problem gambling rates have remained relatively stable at around 1% over the years where gambling in Singapore was legal for individuals with a minimum age of 21 years through Singapore Pools, Marina Bay Sands Casino, and Resorts World Sentosa Casino.
Therefore, the updated regulations will address the advancements in technology and to clarify the boundaries between gambling and gaming as more business models are now adapted to introducing gambling elements in products that were once not perceived as gambling.
Gaming Vs Gambling
One of the reasons for the debate between MPs that led to the GC Act was the existence of loot boxes in video games where most consumers were children. This is backed by research in the United Kingdom that reported 25% to 40% of children who play video games have purchased loot boxes. Although many countries have deemed loot boxes as illegal due to having a gambling element, many game developers continue to find ways to circumvent the new restrictions imposed on them.
However, Mr. Desmond Tan, the Minister of State for Home Affairs has stated that the current laws do not consider loot boxes as gambling as it does not involve in-game monetization and will therefore not be considered as gambling under the GC Bill. This is in line with the approach of trying to strike a balance between leisure and gambling. 
People of all ages enjoy online games where most include some elements of chance that are similar to gambling. So, what exactly is the difference between gaming and gambling?
What The Research Says?
Studies have shown that young adults or adults who are exposed to games that have gambling elements could have a higher likelihood of developing gambling problems. Although there is no evidence to support the reason why this could be the case, it is believed to be due to the similarities of gaming and gambling.
The use of EGMs have also led researchers to believe that the feature of making it seem like a skill is required helps to attract young players and to keep them playing. With the convergence of gaming and gambling, it makes the activity more exciting and leads to higher participation levels. However, continued research is required to understand the real impact of the merging of gaming and gambling.
Risks of Social Gambling
As there is still little evidence available, experts can only speculate on the potential implications of social gambling. Research suggests that one of the main motivations to participate in social gambling besides the ability to win money is to demonstrate skill and to compete within one's peer group to enhance social status. Here are some of the potential risks of social gambling.
Perception of Social Norms in Adolescents
In adolescents, there is a complex relationship, but it has been shown that the perception of social norms influences their attitudes towards their participation in risk behavior. It is possible that they may develop positive attitudes towards gambling, but this is a complex issue and a causal relationship should not be inferred between the two.
Desensitization To The Risk of Gambling
Additionally, repeated exposure to social gambling may provide reinforcement to promote positive attitudes and expectations of gambling, resulting in desensitization to the risk of the activity. Again, caution is required when interpreting the above as it is unclear what extent is considered negative.
Migration To Real Money Gambling
In Freemium games with longer winning sequences where the operator gives out virtual winnings, experiences with these games may lead players to migrate onto real money gambling where they could have unrealistic expectations and may persevere longer when losing to get their money back. Consequently, the risk of financial harm may be less likely under Freemium games where players are not permitted to win real money.
The concept of "chasing losses" is believed to be due to impaired control and is one of the main issues seen in problem gambling driven by the need for financial reparation. Adolescents who spend in simulated gambling activities may have a higher risk for problem gambling.
Potential For Excessive Participation
Since there is a clear convergence between online games and gambling, some experts argue that the real risk is the potential for excessive participation resulting in negative consequences similar to online game addiction.
Although yet to be conclusive, studies have reported on migration rates from social casino games to gambling. This was further supported by the positive association between social casino games and gambling problems.
Conclusion
With the changes effective 1st August 2022 under the Gaming Control Act, all gambling activities are considered illegal unless through licensed operators such as Singapore Pools, Marina Bay Sands Casino, and Resort World Sentosa Casino. Under the new regulations, there will be class licensing regimes for lower risk gambling activities. Social gambling at home among friends and family is still permitted but this allowance does not extend to online platforms. Those who wish to do so should gamble at their own risk.